Rates
FAQ (frequently asked questions)
Getting to/from Pattaya - updated August 2009
Email me to reserve your stay: Info@ViewTalayCondos.com
View Talay Jomtien Project 1 details (scroll down for written information)
Low Season: May 2017 to September 2017

High Season: October 2017 to April 2018

Low Season: May 2018 to September 2018

View Talay Jomtien Condominium, Project 1, Building B, 6th and 7th floor (studio, 32sqm)
1 month/14,000B
1 month/16,000B
1 month/14,000B

3 weeks/11,000B
3 weeks/13,000B
3 weeks/11,000B
2 weeks/8,000B
2 weeks/10,000B
2 weeks/8,000B
Building B, swimming pool and pool house: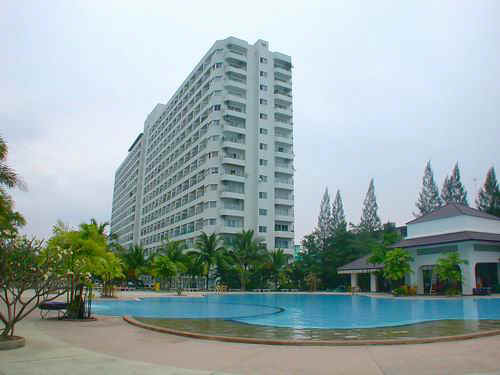 View Talay Condo 1, building B, 7th floor unit, 32sqm studio: NEW PICS <added May 2015>
View Talay Condo 1, building B, 6th floor unit, 32sqm studio: NEW PICS <added May 2015>
View from balcony of View Talay 1, building B. (Jomtien City, with ocean in the background). While the tops of the shop-houses are nothing to be impressed with, the streets are busy with shops and restaurants to explore:
Food Mart (open 24/7) and the Currency Exchange booth (open 7 days a week) located directly in the front of View Talay 1:
WIFI internet is included in your condo rental. All of my short term rentals include a dedicated DSL line.
About the complex: Each building, A and B, have 15 floors, a swimming pool, pool house, and many shops and restaurants.
Your condo unit will be clean, and your king size bed will be made. At check-in these linens will be ready:
at least 4 clean towels

at least 2 clean sheets

at least 1 comforter blanket

at least 4 pillows with 4 pillow cases
There will be ample supplies of soap, shampoo, conditioner, toilet paper, and drinking water waiting for you at check-in. Everything in the condo is for you to use during your stay (not for take-away please).
Each studio condo/apartment has its own balcony, own bathroom with hot shower/bathtub, well-kept cold air conditioner, ceramic tiled floor, good quality king size bed, 2 end tables, 2 lamps, sofa piece, coffee table, closet and drawers, eating table with 2 chairs, 60 channel international cable TV (with channels such as HBO, BBC, CNN, FOX NEWS, SPORTS), a DVD player, microwave, toaster, fan, a/c, fridge, hot drinking water machine for coffee or tea, dishes and glasses, ping pong paddles, beach mats, etc etc. I even include a water dispenser, with 20 litre bottles of drinking water. This will save you from carrying heavy water bottles back to your condo from the shops.
Electronic safety deposit box, which uses a combination and a key, is located in the closet of your condo unit.
Internet is available via a wi-fi subscription service offered by the View Talay management. The signal is strong and reliable throughout the entire complex. Also, I can recommend using Jules English style Bar and Restaurant's free and open wi-fi connection in building A. Jules is open early and closes late, with reasonable prices on drinks and food. There are also numerous other restaurants and pubs with open wi-fi connections to use for free, so just ask around. Also, there is an internet cafe in View Talay 1, building B, which is open until 10pm costing 1B/minute or 40B/hour.
Location: Located directly on the 10B baht bus route, the nearest beach to the building is Jomtien beach and Dongtan beach. In my opinion, the nicest beaches of Pattaya area. Most people will say they love the "View Talay" complex for its ideal location for public transport around Pattaya/Jomtien, to the beaches, nightlife, big pool -- also lots of fantastic food (local and int'l) at very competitive prices. Swimming pool use is available to all residents free of charge, along with a pool table and ping pong table in the pool house, next to the pool restaurant. Daytime/nighttime entertainment in Jomtien and Pattaya can be found literally everywhere.
Facilities: In View Talay 1, between buildings A and B, is a very big, beautiful swimming pool with palm trees, food, drink, and cocktail service – even a western breakfast/lunch/dinner for you to eat poolside. The pool house has a complimentary pool table and ping pong table for guests.
Maid service is available anytime from the condo office in the lobby, for a separate charge of 300B, no matter how long it takes to finish the job. They have a maid cart just like a hotel. They will change sheets (be sure to give them your spare set) and make your bed, clean the floors, wash the bathtub, floors, toilet, balcony, etc. You can schedule the cleanings as you wish with the downstairs office in the lobby. Alternatively, I have cleaning supplies, including a vacuum cleaner, already in the condo for you to use if you prefer to do it yourself.
Laundry shops are located on the ground floor of each building to professionally take care of your clothes, and the bedding, at competitive rates.
Security: 2 security guards are always located in the driveway entrance to the complex, 1 or 2 in the parking lot, and 1 or 2 in each building. Each building also has their resident chief of security to overlook all situations. There is always is a keycard system in place to enter the building, and to exit the building. You will get a keycard at check-in with your door keys to use. For your peace of mind there is CCTV security surveillance using multiple security cameras on each and every floor of the building, lobbies and driveway to record activities.
Guest policy: No charge for extra guests, of course. Guests may be asked for ID card by the security, and returned to the guest upon leaving if they are not brought in with you. For small families, I have some single size fold out floor mattresses that you can request from me at no extra charge for your stay. Please tell me beforehand if you need the extra floor mattresses -- please not at check-in so I can be prepared with this for your arrival.
Food: There are numerous shops and restaurants downstairs and nearby. A 24 hour supermarket called Food Mart stocked with international and local food is located right in front of the entrance to the View Talay 1 complex. Within a short walking distance there are international (Italian, Indian, French, Swiss, German, etc) and many Thai restaurants all at reasonable prices. Food really is certainly one of Pattaya's specialties. For everyday delicious Thai and western food at everyday prices, I recommend Antz and restaurant in View Talay 1, building A, right next to the swimming pool. I also highly recommend Summer Wind on the opposite side of building A closest to the street. Across the street from the View Talay 1 driveway is Pan Pan, with authentic Italian brick oven pizza -- our family favorite.
Transportation: It is easy to get around Pattaya and Jomtien from View Talay 5, View Talay 7, and View Talay 1, which is one of the reasons it is such a popular place to stay. A 10B coin will take you all the way down Jomtien, or all through Pattaya (up to Tops in Central Pattaya, after that pay 20B) on one of the local "Baht Buses". This transport runs day and night 24 hours, same price. Use exact change and pay at the end of your ride. Don't ask the driver how much it costs, because then it shows that you don't know and you will be told a higher price. Just watch how the locals and expats do it and you will get the hang of it. A common alternative to public transport in Pattaya is to rent your own motorbike (can be found for 150B-200B per 24 hour period). A good way to check the competition is to ask what insurance is included with the rental. There is a motorbike rental shop in each building.
Nightlife and entertainment is easily found. The most famous nightlife area, Walking Street in South Pattaya, is nearby; just a 5-10 minute baht bus ride (10B) from View Talay Condo 1 and View Talay 5.
My recommended side trip excursion: Shops offer a minibus in the morning for around 150B-200B each way to Ko Samet, a very beautiful island beach just about an hour away. I can very much recommend a 1 or 2 night stay here as an excursion from your Pattaya stay. Best of all, you will get door-to-door service from View Talay Condo. Inquire at the little travel agency in View Talay 1, building A. Of course Koh Larn is also always a great day trip, from Balt Hai Pier at the end of Walking Street. The ferry is only 30B each way.
Within walking distance: Jomtien Complex, The Rabbit Resort, Avalon Resort, Thai Blind Massage Institute (TBMI), Gay/mixed beach, Nui's Place, The Venue, Sea Falcon, Continental Bakery, Bondi Bar, Pan Pan, Bookazine, Manuet, Grand Condotel, Palm Beach Inn, Sugar Palm Beach Hotel, Food Mart, Shennanigans, and many more places.
In addition to your renter's fee, you must sign a rental agreement, and pay your security deposit (normally 5,000B). I can quickly and easily return the deposit to you because of having utilities already included in your rental price. That security deposit will be returned to you upon your departure, provided the condo is left in good condition, as it was in and the beginning of your rental. Please remember at check-in rental payment can only be given in Thai Baht cash. I don't accept other currencies. Please come prepared with cash. Alternatively you can pay with credit card in advance using www.Paypal.com. If you would like to pay with credit card, then let me know before your check-in.
Tenants are mostly foreigners. You will have neighbors from all over the world.
Fresh towels, fresh bedding, and a clean condo will be ready for you at check in -- all we need is you! Come make yourself at home at your own condo/apartment in the exciting beach resort city of Pattaya/Jomtien.
---