FAQ (frequently asked questions)
Getting to/from Pattaya - updated August 2009
Email me to reserve your stay: Info@ViewTalayCondos.com
View Talay 7, an ocean front building, condo units located on the 5th floor, 6th floor, and 10th floor. rates here!
Low Season: May 2017 to September 2017

High Season: October 2017 to April 2018

Low Season: May 2018 to September 2018

View Talay Jomtien Condominium, Project 7, 5th, 6th fl & 10th fl in an ocean front building (studio, 48sqm)
1 month/27,500B
1 month/28,500B
1 month/27,500B

3 weeks/22,500B
3 weeks/23,500B
3 weeks/22,500B
2 weeks/17,500B
2 weeks/18,500B
2 weeks/17,500B
WIFI internet is included in your condo rental. All of my short term rentals include a dedicated DSL line.
These four View Talay 7 condo units are decorated to a high standard. Please scroll down to see the pictures of the rooms, the ocean front condo building, balcony view, and ocean front pool. I would consider this to be the best located condo in all of Jomtien, due to being located directly on the baht bus route, and the ocean front location in the heart of Jomtien, and without a road in front.
Unlike many other condo rentals aound, there really are no extra charges with my condos
Your condo unit will be clean, and your king size bed will be made. At check-in these linens will be ready:
at least 4 clean towels and 2 bathrobes

at least 2 clean sheets

at least 2 comforter blanket

at least 4 pillows with 4 pillow cases
Ocean front location, at the start of Jomtien Beach and Dongtan Beach: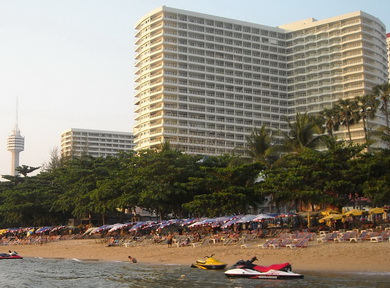 **NEW EXECUTIVE 1 BEDROOM -- View Talay 7, 10th floor, Pattaya side (48sqm): decorated with king sized bed, separate living room and bedroom, sunset view.
CLASSIC decoration -- View Talay 7, 5th floor condo, Jomtien side (48sqm): decorated with a king sized canopy bed, all wood furniture.
Unit #2: CLASSIC decoration -- View Talay 7, 6th floor condo, 48sqm, unit #2: decorated with a king sized sleigh bed, fold-out sleeper sofa, kitchen, all wood furniture.
Unit #3: CONTEMPORARY decoration -- View Talay 7, 6th floor condo, 48sqm: Decorated with a king sized bed, washing machine, fold-out sleeper sofa, and kitchen.
There will be ample supplies of soap, shampoo, conditioner, toilet paper, and drinking water waiting for you at check-in. Everything in the condo is for you to use during your stay (not for take-away please).
Electronic safety deposit box is installed, and bolted into the closet.
About the complex: This ocean front building has 27 floors, ocean front swimming pool, fire sprinkler system throughout, and private access to the beach. Don't miss the spectacular sunset on the beach every evening. There are shops, and laundry in the building. View Talay 7 is at the start of Jomtien Beach, in the heart of Jomtien, and at the start of Dongtan Beach -- walking distance to so many bars, restaurants, shops. The rooftop has grass and trees, great for the view and to lay down and get sun.
Within walking distance: Jomtien Complex, The Rabbit Resort, Avalon Resort, Thai Blind Massage Institute (TBMI), Gay/mixed beach, Pattaya Park, Nui's Place, The Venue, Sea Falcon, Continental Bakery, Bondi Bar, Pan Pan, Bookazine, Manuet, Grand Condotel, Palm Beach Inn, Sugar Palm Beach Hotel, Food Mart, Shennanigans, and many more places.
Security keeps a close watch on the building, with each 27 floors recorded on security cameras. Security guards are stationed at the beach entrance, street entrance, building entrance, and one more who patrols the grounds and walks the rounds on each floor.
Transportation: It is easy to get around Pattaya and Jomtien from View Talay 5, View Talay 7, and View Talay 1, which is one of the reasons it is such a popular place to stay. A 10B coin will take you all the way down Jomtien, or all through Pattaya (up to Tops in Central Pattaya, after that pay 20B) on one of the local "Baht Buses". This transport runs day and night 24 hours, same price. Use exact change and pay at the end of your ride. Just watch how the locals and expats do it and you will get the hang of it. A common alternative to public transport in Pattaya is to rent your own motorbike (can be found for 200B per 24 hour period). A good way to check the competition is to ask what insurance is included with the rental. There is a motorbike rental shop in each building. Ask me if you need a motorbike rental, as I may even rent you one of my bikes.
The beach boardwalk in front of View Talay 5 and View Talay 7 is closed to motor traffic each day, so you can enjoy taking long beach walks up and down Jomtien and Dongtan beach. Trust me, you'll never want to go back home when you stay in your condo.
These units, are decorated with high quality furniture, all granite tiled floor, cold air conditioner, hot shower, 40" (or larger) TV (with full international cable TV, including BBC, sports, movies, etc), DVD, and a fully stocked stainless steel or granite kitchen. The sofa can fold down flat to a single bed size to comfortably sleep an extra person, so this makes it great even for singles, couples, or families. The large balcony has an ocean and pool view, with a table/chair set. The kitchen is fully stocked for cooking, including a microwave, 2 burners, toaster, coffee machine, full-size fridge, plenty of silverware, kitchen utensils, cups and glasses.
Tenants are mostly foreigners. You will have neighbors from all over the world.
Any other questions? Just ask.
Fresh towels, fresh bedding, and a clean condo will be ready for you at check in -- all we need is you! Come make yourself at home at your own condo/apartment in the exciting beach resort city of Pattaya/Jomtien.
Ocean front pool: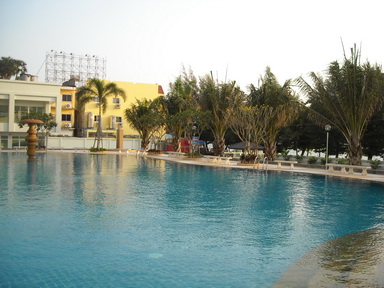 Beach entrance to View Talay 7 Condo from Dongtan Beach: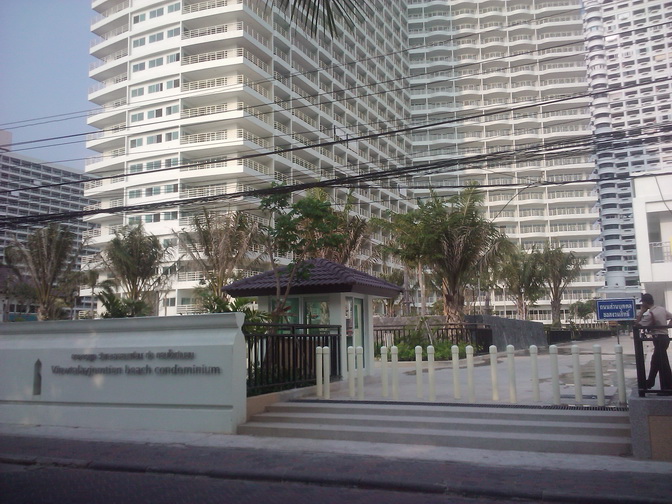 Sunset on Jomtien/Dongtan Beach, in front of View Talay 5 and 7:
For more information, or to make a reservation, please email: Info@ViewTalayCondos.com